14-03-2019 | Issue 8/2019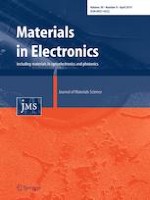 Study of impedance, dielectric and magnetic properties in Y3Fe5−

x

Mn

x

O12 (
x

 = 0–0.2)
Authors:

Aakansha, S. Ravi
Important notes
Publisher's Note
Springer Nature remains neutral with regard to jurisdictional claims in published maps and institutional affiliations.
Abstract
Manganese substituted yttrium iron garnet (Y
3
Fe
5−

x
Mn
x
O
12
with
x
 = 0, 0.1 and 0.2) were prepared by sol–gel route and they are all found to be in single-phase form with lattice constant in the range of
a
 = 12.3724 Å for
x
 = 0 to 12.3674 Å for
x
 = 0.2. Impedance analysis shows that the relaxation process is predominantly controlled by grain boundaries. The relaxation time of charge carriers obtained from the impedance measurement follows the Arrhenius law with an anomaly in the vicinity of transition temperature and it highlights the presence of magneto-electric coupling. The dielectric constant at room temperature for 1 MHz frequency is found to be in the range of ε′ = 15 for
x
 = 0 to ε′ = 10 for
x
 = 0.2. Magnetization measurements show that all samples exhibit ferrimagnetic transition and its transition temperature
T
c
decreases from 550 K for
x
 = 0 to 539 K for
x
 = 0.2.