24-04-2019 | Issue 1/2020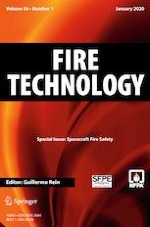 Study on Fingering Pattern of Spreading Flame Over Non-charring Solid in a Narrow Space
Journal:
Authors:

Tsuneyoshi Matsuoka, Akihiro Yoshimasa, Masashi Masuda, Yuji Nakamura
Important notes
Publisher's Note
Springer Nature remains neutral with regard to jurisdictional claims in published maps and institutional affiliations.
Abstract
Fingering pattern formation of flame spread over a thick solid has been observed recently. Since the oxygen-enriched atmosphere in microgravity promotes the occurrence of fingering and thus it leads to a fire in space, it is important to understand the mechanism. Motivated by this, a previous study attempted to validate a similarity to smoldering fingering. However, it remains controversial because the quantitative evaluation of the fingering pattern was not satisfactory done due to the experimental design: edges of the solid have an influence on the phenomenon. In this study, a new wind tunnel was developed, enabling experiments under the least effects of the artificial boundaries and evaluation of the pattern. A thick thermoplastic and oxygen were used as fuel and oxidizer, and a series of experiments were conducted under various channel heights and oxidizer velocities. A number of fingers, average finger width and, average flame spread rate were then quantified to estimate the scaled wavelength which characterizes the fingering pattern. The effects of the existence of flame and solid thickness are discussed and the theory for smoldering combustion was then modified accordingly to examine a correlation with the governing parameter, i.e., the modified effective Lewis number. The result shows the scaled wavelengths are well-summarized against the modified effective Lewis number. On the other hand, the data deviates from the line when the parameter becomes large, indicating a difference from the smoldering fingering. The obtained knowledge will help to develop a more rigorous risk assessment for the fire in space.