01-05-2021 | Assembly | Issue 5/2021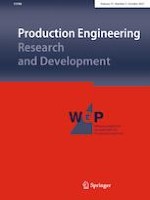 Study on the balance between FSW parameters and heat treatment for an optimized Al2024-T8 joint: microstructural and tensile evaluations
Journal:
Authors:

S. Yousefi Shivyari, A. Hosseini Monazzah
Important notes
Publisher's Note
Springer Nature remains neutral with regard to jurisdictional claims in published maps and institutional affiliations.
Abstract
In this study, the effects of different rotational speeds (ω) and T6 post weld heat treatment on the microstructure, micro-hardness distribution, and tensile properties of friction stir welded Al2024-T8 were investigated. Rotational speeds of 700, 900 and 1100 rpm at a constant 100 mm/min transverse rate (υ) were used. To investigate the degree of post weld heat treatment's (PWHT) effectiveness with respect to rotational speed of FSW, half of the joints were heat treated under T6 condition (Solutionizing at 500 °C for 1 h, quenching, and finally aging at 200 °C for 2 h). Ascending trend of grain size on workpieces without PWHT in thermo-mechanically affected zone (TMAZ) from 700 to 1100 rpm indicates that generated heat played the main role rather than plastic deformation. Close hardness results among all different FSW zones under a PWHT condition confirm the success of T6 treatment in overcoming thermo-mechanical microstructural variations resulted from stir friction. The effect of increasing ω/υ on tensile properties among the joints without PWHT is considerable. Higher ω led to higher strength but lower ductility. Therefore, the highest strength was achieved at ω = 1100 rpm (71.2% of base metal), and the highest elongation was achieved at ω = 700 rpm (13.8% of base metal). The results of T6 treated joints showed a strong dependency of PWHT's effectiveness to FSW parameters. T6 heat treatment resulted in reduced strength in all cases but the amount of reduction relative to original strength was reduced by increased ω. The same trend was observed in ductility with the exception of 25% improvement over original ductility at highest rotational speed (ω = 1100 rpm).