Published in: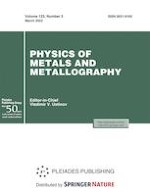 01-03-2022 | ELECTRICAL AND MAGNETIC PROPERTIES
Studying the Effect of Strong Magnetic Fields on the Phase Transitions of the Frustrated Potts Model with a Number of Spin States
q

= 4

Published in: Physics of Metals and Metallography | Issue 3/2022

Log in
Abstract
The phase transitions and thermodynamic properties of the two-dimensional Potts model with a number of spin states
q
= 4 are studied on the basis of a replica algorithm by the Monte Carlo method on a hexagonal lattice with consideration for the interaction between the first and second nearest neighbors in an external magnetic field. The studies are performed for magnetic field values within a range 0.0 ≤
h
≤ 7.0 with a step of 1.0. The magnetic structures of the ground states are constructed. It is revealed that a first-order phase transition occurs within the considered range of magnetic field values. It is demonstrated that magnetic field within a range 4.0 ≤
h
≤ 7.0 lifts the ground state degeneracy, and the phase transition becomes smeared.