12-08-2021 | Issue 4/2021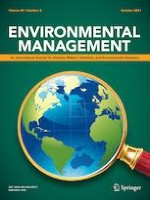 Submerged Aquatic Vegetation Species and Populations Within Species Respond Differently to Environmental Stressors Common in Restorations
Journal:
Authors:

Laura K. Reynolds, Christine B. Rohal, Whitney A. Scheffel, Carrie Reinhardt Adams, Charles W. Martin, Jodi Slater
Important notes
Supplementary information
Publisher's note
Springer Nature remains neutral with regard to jurisdictional claims in published maps and institutional affiliations.
Abstract
Submerged aquatic vegetation (SAV) improves environmental conditions by acting as a sediment stabilizer and nutrient retention tool; therefore, reintroduction of SAV is a common freshwater restoration goal. Initial plant establishment is often difficult in suboptimal conditions, and planting material with specific traits may increase establishment rates. Here we evaluate the variability in plant traits based on collection location. We find consistent differences in traits of plants collected from different natural water bodies, and those differences persist in plants grown from seeds under common garden greenhouse conditions—presumably because of genetic differentiation. In three separate mesocosm experiments, we tested the interactive impacts of collection location and environmental condition (control conditions, reduced light, elevated nutrients, or a combination of reduced light and elevated nutrients) on plant reproduction and on traits that might indicate future restoration success (plant height, number of leaves, and rhizome diameter). In most cases, plant traits at the end of the experiments varied by collection location, environmental condition, and an interaction between the two. The best performing plants also depended on response variable (e.g., plant height or number of new shoots produced). Together these results suggest that unpredictable environmental conditions at restoration sites will make selection of a single high-performing plant source difficult, so we suggest incorporating a diverse set of collection locations to increase the probability of incorporating desirable traits.