16-09-2019 | Original Contribution | Issue 11-12/2019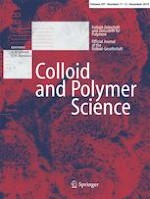 Superhydrophobic polymer composite coating on glass via spin coating technique
Journal:
Authors:

Mukesh Kumar Meena, Apurba Sinhamahapatra, Aditya Kumar
Important notes
Publisher's note
Springer Nature remains neutral with regard to jurisdictional claims in published maps and institutional affiliations.
Abstract
In this work, a superhydrophobic coating on glass surface has been prepared by using polymethylmethacrylate, SiO2 nanoparticles, and hexadecyltrimethoxysilane via spin coating technique. Coating was characterized by using contact angle measurement technique, scanning electron microscopy, and Fourier-transform infrared spectroscopy. Coating shows the superhydrophobic nature with water contact angle of 165 ± 5° and tilt angle of 7 ± 1°. Thermal, chemical, and mechanical stability of coating was also examined, and it is found excellent wetting stability of coating under harsh conditions. Droplet dynamics behavior of water droplets on coating was also studied and bouncing, pinning, and splashing of water droplets are observed at different impact velocities. Coating also exhibits the excellent self-cleaning nature. Prepared coating shows its several industrial applications.