29-12-2015 | Issue 8/2015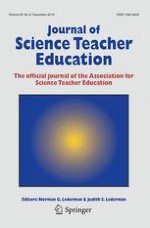 Supporting Teachers Learning Through the Collaborative Design of Technology-Enhanced Science Lessons
Journal:
Authors:

Ayoub C. Kafyulilo, Petra Fisser, Joke Voogt
Abstract
This study used the Interconnected Model of Professional Growth (Clarke & Hollingsworth in Teaching and Teacher Education, 18, 947–967,
2002
) to unravel how science teachers' technology integration knowledge and skills developed in a professional development arrangement. The professional development arrangement used Technological Pedagogical Content Knowledge as a conceptual framework and included collaborative design of technology-enhanced science lessons, implementation of the lessons and reflection on outcomes. Support to facilitate the process was offered in the form of collaboration guidelines, online learning materials, exemplary lessons and the availability of an expert. Twenty teachers participated in the intervention. Pre- and post-intervention results showed improvements in teachers' perceived and demonstrated knowledge and skills in integrating technology in science teaching. Collaboration guidelines helped the teams to understand the design process, while exemplary materials provided a picture of the product they had to design. The availability of relevant online materials simplified the design process. The expert was important in providing technological and pedagogical support during design and implementation, and reflected with teachers on how to cope with problems met during implementation.