01-08-2014 | Research Paper | Issue 8/2014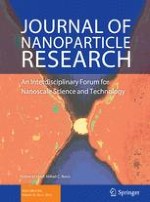 Surface functionalization of microwave plasma-synthesized silica nanoparticles for enhancing the stability of dispersions
Journal:
Authors:

Yee Hwa Sehlleier, Ali Abdali, Sophie Marie Schnurre, Hartmut Wiggers, Christof Schulz
Important notes
Electronic supplementary material
The online version of this article (doi:
10.​1007/​s11051-014-2557-1
) contains supplementary material, which is available to authorized users.
Abstract
Gas phase-synthesized silica nanoparticles were functionalized with three different silane coupling agents (SCAs) including amine, amine/phosphonate and octyltriethoxy functional groups and the stability of dispersions in polar and non-polar dispersing media such as water, ethanol, methanol, chloroform, benzene, and toluene was studied. Fourier transform infrared spectroscopy showed that all three SCAs are chemically attached to the surface of silica nanoparticles. Amine-functionalized particles using steric dispersion stabilization alone showed limited stability. Thus, an additional SCA with sufficiently long hydrocarbon chains and strong positively charged phosphonate groups was introduced in order to achieve electrosteric stabilization. Steric stabilization was successful with hydrophobic octyltriethoxy-functionalized silica nanoparticles in non-polar solvents. The results from dynamic light scattering measurements showed that in dispersions of amine/phosphonate- and octyltriethoxy-functionalized silica particles are dispersed on a primary particle level. Stable dispersions were successfully prepared from initially agglomerated nanoparticles synthesized in a microwave plasma reactor by designing the surface functionalization.