01-02-2019 | Original Research | Issue 5/2019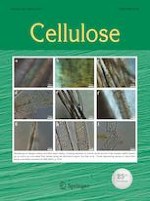 Surface modification of cellulose nanocrystal using succinic anhydride and its effects on poly(butylene succinate) based composites
Journal:
Authors:

Canqing Wu, Xuzhen Zhang, Xiuhua Wang, Qingwen Gao, Xinan Li
Important notes
Canqing Wu and Xuzhen Zhang have contributed equally.
Publisher's Note
Springer Nature remains neutral with regard to jurisdictional claims in published maps and institutional affiliations.
Abstract
Cellulose nanocrystals (CNCs) extracted from microcrystalline cellulose, were modified by succinic anhydride to give succinic CNCs (SCNCs). Successful surface modification of SCNCs was confirmed by results of FTIR, FE-SEM, contact angle measurement and dispersity test, and SCNCs were then subjected to melt blending with poly(butylene succinate) (PBS) to prepare nanocomposites. Meanwhile, PBS/CNC nanocomposites were also prepared through same procedure as references. The morphology, thermal and mechanical properties and crystallization properties of PBS/SCNC nanocomposites with increasing SCNCs content from 0 to 7 wt% were investigated. PBS/SCNC nanocomposites exhibit better thermal stability than that of PBS/CNCs, which is mainly ascribed to less sulfate groups on CNC surfaces and more hydrogen bond effects between PBS carbonyl groups and ester groups from SCNCs. Young's modulus and yield strength of PBS/SCNCs are higher than that of PBS/CNC nanocomposites, which is primarily attributed to the homogeneous dispersion of SCNCs in PBS matrix, confirmed by FE-SEM images. This work is valuable for design of PBS-based nanocomposites with enhanced thermal and mechanical properties.
Graphical abstract
×