01-07-2019 | Editorial | Issue 7-8/2019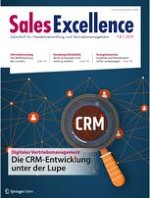 "Survival of the fittest"
Journal:
Die Digitalisierung hat viele Opfer gekostet. Traditionsreiche Berufe zum Beispiel, sogar ganze Branchen gehören dazu, etwa der Schriftsetzer, samt seiner Branche. Viele sind gefährdet und werden wohl in einigen Jahren von der Bildfläche verschwunden sein: So läutet wohl bereits für Zählerableser, Reisebüromitarbeiter oder Briefträger das Totenglöckchen. Aber es gibt auch Überlebende der digitalen Transformation - der Verkäufer gehört sicher dazu. Auf Dauer wird er allerdings nur eine Chance haben, wenn er sich den digitalen Herausforderungen stellt und die Möglichkeiten, die sich ihm auch morgen noch bieten, nutzt. ...