04-09-2019 | Issue 3/2021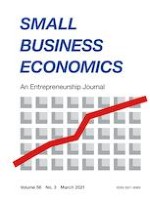 Sustainable entrepreneurial ecosystems: an emerging field of research
Journal:
Authors:

Christine Volkmann, Klaus Fichter, Magnus Klofsten, David B. Audretsch
Important notes
Publisher's note
Springer Nature remains neutral with regard to jurisdictional claims in published maps and institutional affiliations.
Abstract
While the concept of entrepreneurial ecosystems is now a prominent topic and an important stream in entrepreneurship research, the question of how ecosystems can specifically promote
sustainable
entrepreneurship and contribute to the Sustainable Development Goals (SDGs) set by the United Nations is a neglected issue. With the papers in this special issue, we address this research gap, serving as a catalyst sparking more research at the nexus of contextualization of entrepreneurship and sustainability. This research has, since the 1990s, developed in three waves; the explicit linkage to SDGs and the investigation of impacts of entrepreneurship and entrepreneurial ecosystems in achieving societal and environmental goals might be considered as the "fourth wave." We first introduce relevant research streams and concepts for investigating sustainable entrepreneurial ecosystems. Then, we explain why this special issue and its articles represent a fourth wave in entrepreneurial research ("sustainability"). Thereafter, we provide an overview of the papers of this special issue and then end with a brief consideration of future research demands.