2021 | OriginalPaper | Chapter
Sustainable Transportation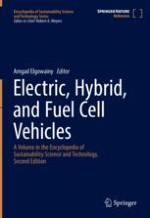 Read first chapter
Author: Mehrdad Ehsani
Publisher: Springer New York
Abstract
Conventional vehicle
A vehicle with an internal combustion engine alone.
Electric vehicle
A vehicle with an electric motor and a battery bank for propulsion.
Hybrid vehicle
A vehicle having a combination of internal combustion engine and electric motor for propulsion.
Hydrocarbons
Organic fuels consisting mainly of hydrogen and carbon atoms from fossil or other sources.
Sustainable
Compatible with long-term life on earth.
Transportation
Vehicle and fuel technology complex.