Published in: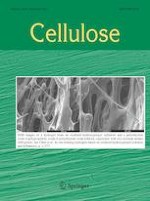 18-10-2021 | Original Research
Synthesis and catalytic evaluation of silver@nickel oxide and alginate biopolymer nanocomposite hydrogel beads
Published in: Cellulose | Issue 18/2021
Login to get access
Abstract
In this study, silver–nickel oxide/calcium alginate (Ag@NiO/Alg) hydrogel beads were synthesized by incorporating the nanomaterial into the polymer solution followed by their extrusion from a syringe to coagulating solution for crosslinking. The Ag@NiO/Alg beads formed through this procedure were characterized by different instrumental techniques. The catalytic efficiency of Ag@NiO/Alg was evaluated for the reduction of rhodamine B (RhB) and methyl orange (MO), in the presence of sodium borohydride. After applying various kinetic order equations to the experimental data, the reactions were found to follow
pseudo-first order
kinetics using the Ag@NiO/Alg catalyst. The apparent rate constant (
k
app
) was determined as 0.33358 min
−1
and 0.20882 min
−1
for the catalytic reduction of RhB and MO, respectively. Furthermore, reduction reactions were studied at varying dye concentration and catalyst dosages. The recovered catalyst was reused up to five cycles without significant drop in the activity.