01-09-2018 | Research Paper | Issue 9/2018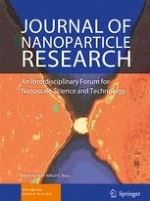 Synthesis and characterization of PVP-coated tellurium nanorods and their antibacterial and anticancer properties
Journal:
Authors:

Christopher D. Brown, David M. Cruz, Amit K. Roy, Thomas J. Webster
Important notes
Christopher D. Brown and David M. Cruz contributed equally to this work.
Abstract
Antibiotic resistance is a predicament that affects more than 2 million people worldwide each year. Through the over-prescription and extensive use of antibiotics, bacteria have generated resistance to many common antibiotic treatments. A promising approach to target antibiotic-resistant bacteria is the use of metallic nanoparticles. In this work, an environmentally safe synthesis of tellurium nanoparticles was explored. Rod-shaped tellurium nanoparticles coated with polyvinylpyrrolidone (PVP) were prepared using a facile hydrothermal reduction reaction. Transmission electron microscopy (TEM) images were used to characterize the size and morphology of the nanoparticles and showed a narrow size distribution. In addition, energy dispersive X-ray spectroscopy (EDS) was performed to verify the chemical composition of the nanoparticles. Antibacterial assays determined that treatment with nanoparticles at concentrations of 25 to 100 μg/mL induced a decay in the growth of both Gram-negative and Gram-positive bacteria—both antibiotic-resistant and non-antibiotic-resistance strains. To determine the effects of the nanoparticles on off-target cells, cytotoxicity assays were performed using human dermal fibroblasts (HDF) and melanoma (skin cancer) cells for durations of 24 and 48 h. Treatment with nanoparticles at concentrations between 10 and 100 μg/mL showed no significant cytotoxicity towards HDF cells. Contrarily, in melanoma cells, a cytotoxic effect was observed at the same concentrations. This suggests that the nanoparticles possess both anticancer properties towards melanoma cells and antibacterial effects without being toxic to healthy cells. These properties show that, for the first time, PVP-coated tellurium nanorods can be exploited for the treatment of antibiotic-resistant bacterial infections. These nanorods should be further explored for numerous antibacterial and anticancer applications.
×