2012 | OriginalPaper | Chapter
Taming the Raven – Testing the Random Access, Visualization and Exploration Network RAVEN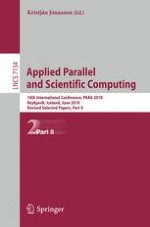 Author: Helmut Neukirchen
Publisher: Springer Berlin Heidelberg
The
Random Access, Visualization and Exploration Network
(RAVEN) aims to allow for the storage, analysis and visualisation of peta-bytes of scientific data in (near) real-time. In essence, RAVEN is a huge distributed and parallel system.
While testing of distributed systems, such as huge telecommunication systems, is well understood and performed systematically, testing of parallel systems, in particular high-performance computing, is currently lagging behind and is mainly based on ad-hoc approaches.
This paper surveys the state of the art of software testing and investigates challenges of testing a distributed and parallel high-performance RAVEN system. While using the standardised
Testing and Test Control Notation
(TTCN-3) looks promising for testing networking and communication aspects of RAVEN, testing the visualisation and analysis aspects of RAVEN may open new frontiers.