2021 | OriginalPaper | Chapter
Technological Substitution of Jobs in the Digital Economy and Shift in Labor Demand Towards Advanced Qualifications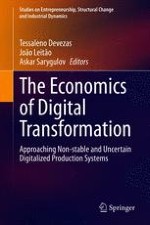 Read first chapter
Authors: А. А. Akaev, A. I. Rudskoy, Tessaleno Devezas
Publisher: Springer International Publishing
Abstract
This chapter addresses three key labor market challenges that occur as a result of the digital transformation of the economy: shift in labor demand towards advanced qualifications; the continuous growth of structural technological unemployment; and the polarization of labor into high- and low-skilled positions, while middle-skilled jobs are being eroded.
The authors propose mathematical models that allow to observe the distribution of labor by skill level, as well as the distribution of the probability curve of technological substitution of labor dependent on the skill level, and calculate the effective share of low-, medium-, and high-skilled workers before and after the digital transformation of the economy.
A solution to the differential equation describing the increase in productivity of a worker in the digital economy, where they interact in symbiosis with intelligent machines, is also presented in this chapter. This solution allows us to make forecasts of optimal wage growth for workers in the digital age, assuming that it is proportional to productivity growth. It is shown that the optimal increase in the salary of a high-skilled worker should occur at a rate of 7% per year and double in 10 years.