Published in: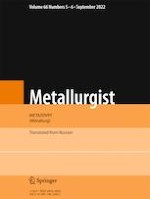 29-09-2022
Tekhnogen-Invest Software Program for Assessing the Effectiveness of Recycling Techogenic Formations of the Ferroalloy Production. Part 1
Published in: Metallurgist | Issue 5-6/2022
Login to get access
Abstract
The contemporary problem of recycling technogenic mineral formations (TMFs) of ferroalloy production under the conditions of increasingly stringent social and ecological constraints is analyzed. During the first decades of the 21st century, management outcome requirements in the metallurgical industry have been significantly toughened. In accordance with international practice, financial and economic indicators connected with maintaining the competitiveness of the industry are typically provided by metallurgical companies. However, in order for the metallurgical industry to remain competitive under these new conditions, it must ensure not only sectoral, but also national-economic effectiveness connected, first of all, in terms of achieving social and ecological goals. In the field of ferroalloy production, the already stressed ecological situation is significantly complicated by the need to apply low-quality (i.e., having an increased content of harmful impurities) mineral raw materials, resulting in a reduction of the technical and economic indices of ferroalloy production. The low utilization degree of valuable alloy components is connected with losses during mining and ore concentration processes, as well as at the stages of ferroalloy production and steel smelting. As a consequence, the total recovery proportion of manganese and chromium into finished products does not exceed 30–40% of that obtained in mining. In order to evaluate the expediency of involving technogenic formations in production process and substantiate the effectiveness of design solutions in this field, the authors propose an interdisciplinary functional approach, an algorithm for which was constructed using the
Tekhnogen-Invest
software program.