Published in: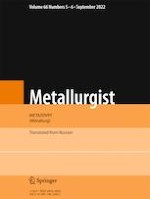 28-09-2022
Tekhnogen-Invest Software Program for Assessing the Effectiveness of Recycling Techogenic Formations of the Ferroalloy Production. Part 2
Published in: Metallurgist | Issue 5-6/2022
Login to get access
Abstract
Under contemporary conditions of social development, it is necessary to rethink the role of waste produced due to economic activity and, in particular, industrial formations of the ferroalloy industry. In order to evaluate the expediency of involving industrial formations in the production process and substantiate the efficiency of design solutions in the field, a functional approach was proposed and its algorithm created in the Tekhnogen-Invest software. This article continues a study aimed at assessing the efficiency of processing industrial formations of the ferroalloy industry. In this part, the developed software was tested using data from the production of high-carbon ferrochrome. The relevance of the applied methodology for assessing the ecological and economic efficiency associated with processing industrial formations of ferroalloy production is confirmed, taking into account the strategic flexibility of projects. The conducted testing the developed Tekhnogen-Invest software produced positive results. The algorithm used in the software allows the cost of implementing an investment project for processing industrial formations of high-carbon ferrochrome production under current conditions of the Urals to be evaluated and the feasibility of its implementation under changing market conditions to be substantiated. The obtained results demonstrate a high potential for producing marketable products from ferroalloy industry waste, confirming the economic efficiency and feasibility of processing industrial formations.