01-10-2016 | Original Paper | Issue 1/2016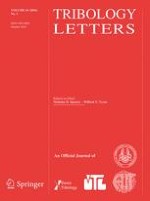 Temperature-Dependent Friction and Wear of MoS2/Sb2O3/Au Nanocomposites
Journal:
Authors:

J. F. Curry, T. F. Babuska, M. T. Brumbach, N. Argibay
Abstract
The temperature-dependent friction and wear of magnetron-sputtered MoS
2
/Sb
2
O
3
/Au nanocomposites was investigated in the range −150 to 150 °C using macroscale experiments. We investigate the origin of recent reports suggesting the existence of a relatively high friction (
µ
~ 0.2) transition for these nanocomposites at temperatures below −20 °C, contrasting with the characteristic ultra-low friction behavior (
µ
< 0.01) for pure and composite MoS
2
films in vacuum and inert gas environments at room temperature. We present evidence suggesting that the ability to form and maintain basally oriented low-friction surface films is increasingly compromised with decreasing temperature, and show that low friction is achievable at cryogenic temperatures.