09-09-2019 | Issue 3/2021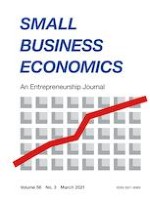 The age of digital entrepreneurship
Journal:
Authors:

Jean-Michel Sahut, Luca Iandoli, Frédéric Teulon
Important notes
Publisher's note
Springer Nature remains neutral with regard to jurisdictional claims in published maps and institutional affiliations.
Abstract
Understanding the circumstances and reasons which facilitate digital entrepreneurship (DE) is of interest to academic research, and guides business practice, as well as public policies aiming at supporting this phenomenon given its positive impacts in terms of job creation and economic growth. We define some relevant concepts and briefly map current research using a perspective that focuses on the way digital entrepreneurs create digital value by acquiring, processing, and distributing digital information. Through the adoption of a digital information processing perspective, we provide a micro-level approach to research on digital entrepreneurship (DE) that complements existing literature on DE focused at the systemic level (digital entrepreneurship ecosystems and in the digital platforms economy). We show how these two approaches can be jointly used to identify major research streams on DE: digital business models, the digital entrepreneurship process and the creation of digital start-ups, DE in digital platforms, and entrepreneurial digital ecosystems. As is the case with existing DE frameworks, our approach concurs in putting emphasis on the new collaborative and social dynamics enabled by digital tools to support knowledge sharing and facilitate opportunity recognition.