Published in: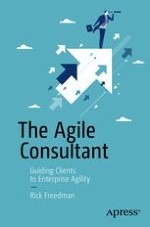 2016 | OriginalPaper | Chapter
1. The Agile Consultant
Abstract
Consulting matters. Our advice, good or bad, can affect the future of clients, their companies, their employees and customers. Some consultants, such as doctors and lawyers, can, by their advice, instigate reprieve or catastrophe. Mentors and managers are advisors, as are our peers and colleagues. Although we give and receive advice all day, the professional consultant has a unique responsibility. As a paid advisor, the consultant is ethically bound to focus on the client's best interest. The best consultants have the domain expertise and creativity to add value, the temperament to advise gracefully, the relationship skills to collaborate and guide, and the tenacity to adapt to the client and accept their boundaries. Clients of consultants expect more than counsel; they want us to implement the ideas we've proposed, and to be accountable for the business results we promised.