2013 | OriginalPaper | Chapter
1. The Background of Hometown Investment Trust Funds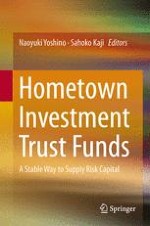 Author: Naoyuki Yoshino
Publisher: Springer Japan
Abstract
This chapter will, first of all, describe how the flow of funds in Japan functions. Second, it explains how Hometown Investment Trust (HIT) funds can fund businesses that are likely to grow in future and are capable of making a social contribution, but entail risks. HIT funds have recently begun to grow, and we will make the case for the urgent need to foster such funds. There are two main reasons why this is important. First, as BIS capital adequacy requirements become more stringent worldwide, banks find it more difficult to provide funding to high-risk businesses and projects. Second, Japan's public finances are in dire straits. Local businesses outside the main urban centres used to be supported by subsidies from the centre to local regions in the form of national tax revenues allocated to local governments, national treasury disbursements, and government loan and investment funds. Under today's expanding fiscal deficits, however, issuance of deficit-financing bonds to provide for local regions has reached a limit, and the need to use private-sector funds to finance regional projects has become urgent (Yoshino and Mizoguchi, Financial policy review, Ministry of Finance of Japan, 2013; McNelis and Yoshino, Advs Complex Syst 15:1250057, 2012).
The second half of this chapter will describe the flow of funds in Asia.
Chapter 5
of this book will discuss concrete examples in Asia, where the financial systems also rely heavily on indirect financing via banks, so that the supply of funds to risk sectors is very likely to taper off. It is necessary to create mechanisms to supply various kinds of funds, including HIT funds that finance new corporations, businesses and environmental programs.