2021 | OriginalPaper | Chapter
The Case of "La Hormiga Verde": Recycling Electronic Waste (e-Waste) as a Paradigmatic Example of a New Entrepreneurial Trend in the Fourth Sector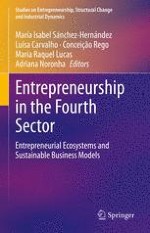 Read first chapter
Authors: Juan Luis Tato Jiménez, María Victoria Carrillo Durán, María García García
Publisher: Springer International Publishing
Abstract
This chapter proposes a research study based on a case methodology examining the La Hormiga Verde company, an example of entrepreneurship in the Fourth Sector, within the regional scope in Spain.
Currently, society demands companies to be involved in the creation of a fairer and more sustainable economy, and hence the rise of the so-called Fourth Sector. La Hormiga Verde is a clear example of sustainable entrepreneurship in this sector, both because it is a Special Employment Centre (SEC), with almost 100% of its workforce being disabled persons, and because the company focuses its activity on processing electronic waste through the recycling of the polluting materials that this waste contains.
This is an innovative case of value creation in the Fourth Sector, due to both the regional environment in which the business project is developed and the business model it follows. Its business model stands out because of its contribution to the creation of economic value and above all social value, thanks to promoting employment among people with disabilities and to the recycling of electronic waste because of its environmental impact.
On the one hand, La Hormiga Verde creates regional economic value, thanks to its different business model based on solving two problems of local environments—reaching everywhere in its region, and meeting the recycling needs of the final consumer (households).
And on the other hand, La Hormiga Verde is a company that is strongly supported by the creation of social value. To this end, it hires people with disabilities, guaranteeing their well-being and their working conditions in the job market, as well as using social marketing strategies such as organizing recycling contests in schools and raising awareness among the younger population.
La Hormiga Verde provides solutions to a global problem through local actions, instead of vice versa. Thus, it solves some of the important challenges facing sustainable companies, and, as an SEC, provides a business model for the Fourth Sector that is replicable and viable as a contribution to the United Nations 2030 Agenda on Sustainable Development.