Published in: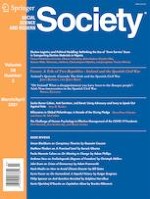 30-04-2021 | Social Science and Public Policy
The Challenge of Human Psychology to Effective Management of the COVID-19 Pandemic
Published in: Society | Issue 2/2021
Login to get access
Abstract
When it comes to the nature of the COVID-19 pandemic and the effectiveness of measures against the disease, many citizens worldwide do not trust their governments or health authorities. This brief essay discusses several psychological mechanisms which, under certain conditions, lead people to ignore important sources of information and hinder effective management of the epidemic. The paper shows that understanding psychological mechanisms, such as information neglect, cognitive dissonance, psychological reactance, and, in general, the diversity of people's thinking styles, may help leaders design more effective government communications.