Published in: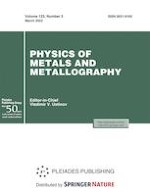 01-03-2022 | ELECTRICAL AND MAGNETIC PROPERTIES
The Character and Structure of Oscillations of Magnetization and Elastic Displacement Components in a Film under Amplitude-Modulated Excitation
Published in: Physics of Metals and Metallography | Issue 3/2022
Log in
Abstract
Oscillations of the magnetoelastic subsystem of a ferrite film excited by an amplitude-modulated alternating magnetic field are studied. The possibility of detecting oscillations at the modulation frequency due to the magnetostrictive properties of the magnetic film is considered. The dependence of the excitation of magnetic and elastic dynamics on the material and excitation parameters, including the type of polarization of an alternating magnetic field, is determined.