2006 | OriginalPaper | Chapter
The Complexity of Counting Functions with Easy Decision Version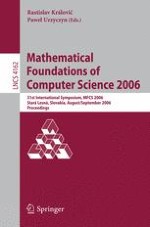 Read first chapter
Authors: Aris Pagourtzis, Stathis Zachos
Publisher: Springer Berlin Heidelberg
We investigate the complexity of counting problems that belong to the complexity class
#P
and have an easy decision version. These problems constitute the class
#PE
which has some well-known representatives such as #
Perfect Matchings
, #
DNF-Sat
, and
NonNegative Permanent
. An important property of these problems is that they are all
#P
-complete, in the Cook sense, while they cannot be
#P
-complete in the Karp sense unless
P = NP
.
We study these problems in respect to the complexity class
TotP
, which contains functions that count the number of
all
paths of a PNTM. We first compare
TotP
to
#P
and
#PE
and show that
FP
⊆
TotP
⊆
#PE
⊆
#P
and that the inclusions are proper unless
P = NP
.
We then show that several natural
#PE
problems — including the ones mentioned above — belong to
TotP
. Moreover, we prove that
TotP
is exactly the Karp closure of self-reducible functions of
#PE
. Therefore, all these problems share a remarkable structural property: for each of them there exists a polynomial-time nondeterministic Turing machine which has as many computation paths as the output value.