01-07-2020 | Cover Story | Issue 7-8/2020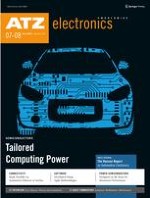 "The development trends toward vehicle computer architecture"
Journal:
Author:

Robert Unseld
The trend toward assisted and highly automated driving places high demands on the computing power of modern vehicles, and much higher on future vehicles. An important aspect of the solution in the future is the centralization of the computers toward a server architecture and toward massive parallel processing: Curt Moore describes his vision of a future computer architecture and the way there.
×
...