01-06-2015 | Original Article | Issue 3/2015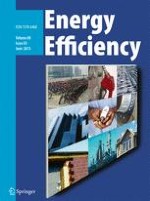 The diffusion of voluntary green building certification: a spatial approach
Journal:
Authors:

Yueming Qiu, Ashutosh Tiwari, Yi David Wang
Important notes
The Abstract and PowerPoint presentation of an earlier version of this paper were listed on the website of the 32nd USAEE/IAEE North American Conference.
Abstract
Improvements in overall sustainability include reductions in energy consumption. There remain significant yet largely unexploited opportunities to reduce energy consumption of commercial buildings. The investments required for green certification can help systematically improve the sustainability of the design of buildings. If the percentage of buildings with green certificates increases, sustainability of the overall building sector can be improved. In order to facilitate the diffusion of green commercial buildings, it is important to understand the patterns of the diffusion and the key factors influencing buildings' decisions. Applying a spatial fraction logit model and an instrumental variable approach to data on commercial buildings for New York, Arizona, Colorado, and Florida, this paper demonstrates that there is strong spatial correlation in the diffusion of green building certificates. It also finds that the split-incentive problem between building owners and renters plays a role in the diffusion. The findings have important implications for policy makers. By analyzing the interactions of the green buildings and the characteristics of the green building clusters, the results are useful in the identification of buildings that are more likely to adopt green certificates.