01-11-2019 | Interview | Issue 4/2019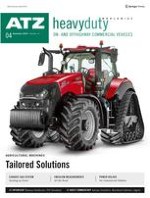 "The digitalization of farming means improving the processes"
Journal:
Author:

Andreas Fuchs
Information technology and electronics have shaped everyday farming for many years. But even here, digitalization is continuing and is linking a range of different processes and stakeholders with each other. The future of the farming business lies in Farming 4.0, or as it is sometime called Smart Farming or even Digital Farming, since the only way to raise the profitability of agricultural businesses is to implement modern information and communication technologies in farming. ATZheavyduty spoke with Prof. Dr.-Ing. habil. Thomas Herlitzius, holder of the chair for Agricultural Systems and Technology at the Technical University of Dresden about the changes in farming due to climate change and the reduction in biodiversity and how these can be counteracted using digital technologies.
×
...