25-10-2020 | Issue 1/2021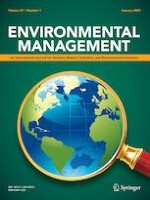 The Dynamics of Multiscale Institutional Complexes: the Case of the São Paulo Macrometropolitan Region
Journal:
Authors:

Leandra R. Gonçalves, Pedro Fidelman, Alexander Turra, Oran Young
Important notes
The original version of the article was revised: The correct affiliations are such as
1. Bren School of Environmental Science and Management, Santa Barbara, CA, USA
2. Oceanographic Institute, São Paulo, Brazil.
Supplementary information
Publisher's note
Springer Nature remains neutral with regard to jurisdictional claims in published maps and institutional affiliations.
Abstract
The concept of institutional interplay (i.e., the interaction between institutions) is critical if the challenges to multilevel governance are to be better understood and addressed. Drawing on the literature on institutional interplay, this paper develops an analytical approach to examine challenges to multilevel coastal governance. São Paulo Macrometropolitan region (MMP, in Portuguese) is used to ground the empirical analysis. The macrometropolitan is one of the largest urban areas in the Southern Hemisphere; it houses the Metropolitan Region of São Paulo—one of the six most significant in the world. The MMP concentrates critical infrastructure, such as ports, airports, and roads, and considerable knowledge, technology, and innovation hubs. The coastal governance in the MMP area characterizes a highly connected multilevel system formed by 60 organizations (7 international, 29 national, 11 state, and 13 local). These comprised a complex environment featuring a great deal of fragmentation, and, consequently, jurisdictional and functional gaps and overlaps. This case was best described in terms of normative, functional, and political interplay. Interplay management has the potential to improve governance on the cross-level interactions among scale-dependent institutions of the MMP, enhancing synergies, and minimizing tensions among the institutions analyzed. This includes fostering cognitive interaction (i.e., promoting interinstitutional learning and assistance, and enhancing synergy) between institutions with complementary and/or similar objectives. Ultimately, interplay management may reduce fragmentation, improve compliance and monitoring, and increase cost-effectiveness. The findings from this paper may prove useful to other jurisdictions where pressing environmental issues involve multiple governance levels and interacting institutions.