29-05-2020 | Issue 4/2020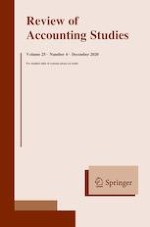 The effect of ASU 2014–08 on the use of discontinued operations to manage earnings
Journal:
Authors:

Yuan Ji, James Potepa, Oded Rozenbaum
Important notes
This paper has benefited from the comments and suggestions of Richard Sloan (editor), two anonymous reviewers, Bill Baber, Patricia Fairfield, Angela Gore, Gilles Hilary, Xiaoli Tian, and Jenny Zha-Giedt. We also appreciate the insights and ideas of seminar participants at Georgetown University and The George Washington University. Finally, we thank Montana State University, The George Washington University, and The Hong Kong Polytechnic University for their financial support. Prior versions of the paper were entitled "Do Firms Alter Their Earnings Management in Response to Ambiguous Accounting Rules? Evidence from Discontinued Operations around ASU 2014-08." All errors are ours.
Publisher's note
Springer Nature remains neutral with regard to jurisdictional claims in published maps and institutional affiliations.
Abstract
Accounting regulations require firms to separately disclose the profits and losses from discontinued operations. These discontinued operations are typically excluded from the definition of income used by investors, analysts, and others. Barua, Lin, and Sbaraglia (
2010
) show that managers manipulate earnings by shifting core expenses into discontinued operations. In light of recent changes in the regulations pertaining to this item, we reexamine this finding. The new rules, which change the criteria for what can be considered discontinued and the associated disclosure requirements, substantially reduce any significant evidence of earnings management using discontinued operations. A decline in the manipulation of large negative discontinued operations drives this reduction. We also find that the new rules decrease the frequency and persistence of discontinued operations.