01-03-2007 | Issue 3/2007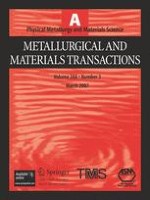 The Effect of Fe-Rich Intermetallics on the Weibull Distribution of Tensile Properties in a Cast Al-5 Pct Si-3 Pct Cu-1 Pct Fe-0.3 Pct Mg Alloy
Authors:

H. Zahedi, M. Emamy, A. Razaghian, M. Mahta, J. Campbell, M. Tiryakioğlu
Important notes
Manuscript submitted: April 25, 2006.
Abstract
A comparison was made between the tensile properties of an Al-5 pct Si-3 pct Cu-1 pct Fe-0.3 pct Mg (319-type) alloy in the as-cast condition. The alloy was either unmodified or modified with Mn or Sr. The additions of 0.6 wt pct Mn, or 0.9 wt pct Mn, or 300 ppm Sr were made. All modifying additions increased the average and decreased the scatter in tensile strength, and increased elongation, with the Sr addition being most effective among the three. Fractographic examinations showed that the
β
phase, the polyhedral
α
phase, and porosity appear to be the main defects responsible for failure. The distribution of tensile strength has been quantitatively assessed using both two- and three-parameter Weibull distribution functions. In the two-parameter Weibull analysis, the high Weibull modulus (46) achieved by Sr modification is due to its binary effect on eutectic silicon and
β
platelets. Reservations about potentially misleading implications of the two-parameter approach are explored. The three-parameter Weibull analysis provides new information. In particular, minimum values of strength below which the material is extremely unlikely to fail are found. These values again show the clear benefit of Sr addition. The results are explained by the effects of modifying agents on the microstructure.