24-08-2017 | Original Paper | Issue 1/2018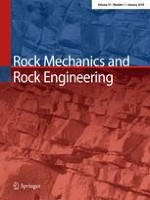 The Effect of Lineation on Anisotropy in Dry and Saturated Himalayan Schistose Rock Under Brazilian Test Conditions
Journal:
Authors:

Jagadish Kundu, Bankim Mahanta, Kripamoy Sarkar, T. N. Singh
Abstract
The paper presents experimental observations of the anisotropic effect of dry and saturated lineated schistose rock on deformational behaviour and fracture patterns under indirect tensile loading conditions. Dry mylonitic quartz–mica schist (M-QMS) shows strength minima in between lineation orientation of 20°–30° with loading direction, whereas dry crenulated quartz–mica schist (C-QMS) shows strength minima in between 45° and 60°. Water saturation significantly reduces the failure strength and shifts the strength minima towards a higher angle. In addition, the water saturation effect induces plasticity along the lineation direction. P-wave velocity is found to be maximum along lineation direction, which continuously decreases to a minimum value across the lineation. Three types of fracture patterns, namely layer activation, central and non-central, are observed for both the rock types. For both the rock types, tensional fractures occur when the lineation is inclined at 0° and 90° to the loading direction, whereas shear and mixed-mode fractures occur at all other orientations. Fracture through the layer activation is prominent in saturated specimens compared to the dry specimens for
β
angle range of 15°–60° and 15°–45° in the case of M-QMS and C-QMS, respectively.