28-07-2020 | Research Article | Issue 4/2020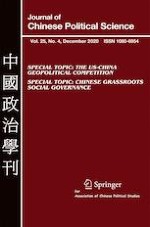 The Effect of Political Participation and Village Support on Farmers Happiness
Journal:
Authors:

Lin Tang, Xiaofeng Luo, Weizheng Yu, Yanzhong Huang
Important notes
Publisher's Note
Springer Nature remains neutral with regard to jurisdictional claims in published maps and institutional affiliations.
Abstract
This paper explores the internal transmission mechanism and influence of political participation and village support on farmers' happiness based on an analysis of data from a micro survey of farmers. The research uses the big surname identity as a tool variable to estimate the influence of political participation on farmers' happiness within the unified framework of CMP and Bioprobit, and adopts a propensity score matching method to construct a counterfactual framework to correct possible selectivity bias. The empirical results show that, firstly, there is a significant positive effect of political participation and village support on the happiness of farmers. Secondly, except for the direct impact on happiness, political participation indirectly affects happiness through village support by playing an intermediary role between political participation and happiness. Thirdly, given the heterogeneity among farmers, political participation has a more significant effect on the happiness of high-income, male, young farmers, while village support has a more pronounced effect on the happiness of low-income, male, older farmers.