01-12-2013 | Issue 23/2013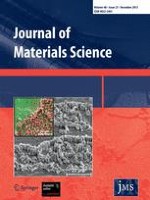 The effect of strontium (Sr) on the ignition temperature of magnesium (Mg): a look at the pre-ignition stage of Mg–6 wt% Sr
Journal:
Authors:

D. S. Aydin, Z. Bayindir, M. O. Pekguleryuz
Abstract
The effect of strontium (Sr) addition on the ignition and oxidation behavior of magnesium has been investigated. Continuous heating experiments carried out in dry air-flow reveal that the ignition temperature (
T
i
) is raised from 640 °C (of pure Mg) to up to 854 °C at 6 wt% Sr addition. The oxidation behavior of Sr containing alloys was investigated during (i) isothermal oxidation experiments above the liquidus temperature (~640 °C) and (ii) during pre-ignition heating to 700 °C. The change in the ignition temperature of various alloy compositions is related to the amount of Sr that can be segregated to the surface and to the activity of the elements in the surface in the stages prior to ignition.