01-09-2020 | Interview | Issue 3/2020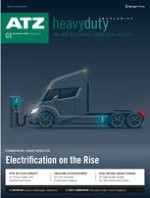 "The electrification of heavy-duty traffic must be actively promoted"
Journal:
Author:

Andreas Fuchs
Compared to the reference period from July 01, 2019 to June 30, 2020, the CO
2
emissions from new heavy-duty trucks for the European market must be reduced by an fleet average of 15 % by 2025 and 30 % by 2030. Andrea Kollmorgen, Head of Connected eMobility at Siemens, explains in an interview with ATZheavyduty how electrification of the heavy-duty transport sector can be promoted in order to be able to achieve the ambitious targets set by the EU.
×
...