27-03-2021 | Original Paper | Issue 5/2021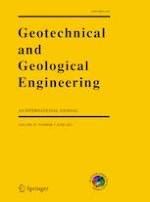 The Equivalent Modulus of Elasticity of Soil Mediums for Designing Shallow Foundations
Author:

Lysandros Pantelidis
Important notes
Publisher's Note
Springer Nature remains neutral with regard to jurisdictional claims in published maps and institutional affiliations.
Abstract
As known, in a Winkler type of analysis the soil medium underneath the foundation is violently replaced by a row of parallel springs having constant
k
s
. For the effective calculation of the latter, which is called the modulus of subgrade reaction, the two elastic constants of the soil (the elastic modulus,
E
and the Poisson's ratio,
ν
) must be known. Although for homogenous soils this generally seems not to be a problem, the same does not stand for stratified mediums or mediums with linearly increasing modulus with depth. In addition, in a Winkler type of analysis, the proper pair of elastic constant values of soil should be selected. This refers to a Poisson's ratio value equal to zero corresponding to the deformation pattern of springs (compression with no lateral expansion) and the respective modulus. In the present paper a method for calculating the equivalent elastic constants for the above mentioned mediums is proposed based on the theory of elasticity combining the principle of superposition. Various cases are considered, since the equivalent modulus,
E
eq
, depends on the rigidity and the shape of the footing. As shown, the derived
E
eq
values not only return reliable settlement results, but also settlement profiles that are similar to those corresponding to the original soil mediums.