2015 | OriginalPaper | Chapter
The Failures of the Electronics of the Space Vehicles in the Conditions of Complex Influence of Space Factors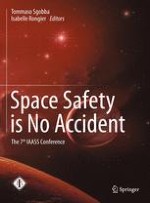 Read first chapter
Authors: T. Musabayev, Zh. Zhantayev, V. Grichshenko, I. Kulanov
Publisher: Springer International Publishing
Abstract
Questions, connected with the research of complex influence of space factors on failures of onboard electronics of space crafts (SC) for different purposes are considered in that paper.
Failures of modules of memory on various SC are analyzed. Results of researching the mechanism of failures and errors of memory cells onboard manned systems taken into account of terrestrial simulated and onboard experiments are presented. Developed criteria of reliability of memory cells in Space, including influence of cosmic rays, differences of geophysical and geomagnetic situation on SC orbit are discussed.
Numerical value of vertical geomagnetic stiffness of proton flux and assessment of correlation failures of memory cells along low-orbit spacecrafts trajectory are presented.
Obtained results are used to forecasting the radiation situation along SC orbit, reliability of memory cells in the Space and to optimize nominal equipment kit and payload of Kazakhstan SC.