Published in: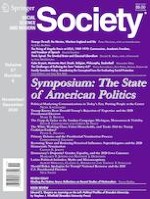 01-12-2020 | Culture and Society
The Firing of Angela Davis at UCLA, 1969–1970: Communism, Academic Freedom, and Freedom of Speech
Published in: Society | Issue 6/2020
Login to get access
Abstract
In 1969, the Board of Regents of the University of California fired Angela Davis for her membership in the Communist Party. The subsequent legal case illustrates an apparent paradox: the legal system's protection of her First Amendment rights did not preclude dismissing her for her speech. Broadly speaking, since the 1960s, the Supreme Court has been consistent in upholding freedom of speech as a central constitutional value. What remains contested and unresolved is the scope of academic freedom--something which universities, not the courts, are responsible for defining. The Davis case, which was saturated with competing conceptions of academic freedom, can serve as a textbook for understanding the structure of debate about this topic.