Published in: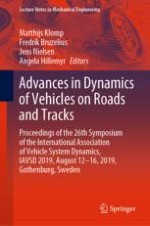 2020 | OriginalPaper | Chapter
The 'FORESEE' Prototype, Fully Active, Steered Two Axle Railway Vehicle
Abstract
This paper reports on a novel project to develop a fully active, two axle railway vehicle which could provide reduced track forces and noise and improved ride comfort compared with existing vehicles. Computer simulations have been used to tune the suspension components and control systems to ensure good passenger comfort and safe operation even in failed control cases. A prototype of the vehicle has been constructed and tested on a full size roller rig. The test results confirm the computer simulations and demonstrate that for speeds up to 200 km/h and in all failure modes the vehicle was stable and with low track forces and high stability and passenger comfort.