Published in: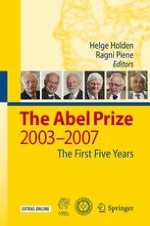 2010 | OriginalPaper | Chapter
The History of the Abel Prize
On the bicentennial of Niels Henrik Abel's birth in 2002, the Norwegian Government decided to establish a memorial fund of NOK 200 million. The chief purpose of the fund was to lay the financial groundwork for an annual international prize of NOK 6 million to one or more mathematicians for outstanding scientific work. The prize was awarded for the first time in 2003.