28-03-2019 | Issue 4/2019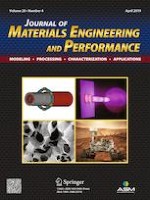 The Hot Bending and Diffusion Bonding of TiAl-Based Alloy for Corrugated-Core Sandwich Structure
Authors:

Zhihao Du, Kaifeng Zhang
Important notes
Publisher's Note
Springer Nature remains neutral with regard to jurisdictional claims in published maps and institutional affiliations.
Abstract
The multi-layer structure of TiAl-based alloys can meet the demand of having lightweight and high-strength properties at elevated temperature. In this paper, the corrugated-core sandwich structure of a TiAl-based alloy was fabricated by the hot bending/diffusion bonding process. In order to fabricate this structure, the high-temperature tensile property, hot bending behavior, and vacuum diffusion bonding of a Ti-47.5Al-Cr-V alloy were investigated. The flow behavior was evaluated by uniaxial tensile experiment, and the results showed that the alloy exhibited good plasticity at the given conditions, and the maximum elongation reached 200% at 1000 °C at strain rate of 3 × 10
−4
s
−1
. The bending experiments were also performed at temperatures of 950, 1000, and 1050 °C with fillet radii of
R
 = 0, 0.5, and 1 mm, respectively. No micro-/macro-defects developed. The vacuum diffusion bonding of this alloy was also carried out, and the shear bonding strength of bonding joints was measured at room temperature. The maximum shear strength was 398 MPa, and the joint was obtained at 1000 °C/30 MPa/3 h. Combining the bonding interface with the shear strength of different joints, the appropriate bonding pressure and bonding time for diffusion bonding of the TiAl alloy at 1000 °C were 20 MPa and 2 h, respectively. Then, the forming process of the corrugated-core sheet was conducted at 1000 °C with a fillet radius of 1 mm. Finally, the corrugated-core sandwich structure was manufactured under vacuum atmosphere, and the mechanical properties and the interface microstructure were investigated.