2021 | OriginalPaper | Chapter
The Ideal Future Hybrid Powertrain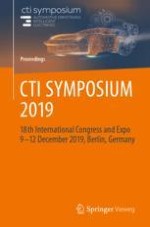 Read first chapter
How to Conduct a Comprehensive Simulation and Design Analysis, Identifying Ideal Hybrid Powertrain Architectures and Operating Strategies
Authors: Y. Jokmin, F. Holldorf, E. Montefrancesco, K. Loock, N. Moeller
Publisher: Springer Berlin Heidelberg
Abstract
Studies in the automotive area agree that the number of electric vehicles has increased over the past years and will increase further in the future. The high number of electric vehicles will not be high enough to fully replace the conventional powertrains utilizing and internal combustion engine (ICE). Instead, conventional and electric powertrains are expected to co-exist in the future [
1
]. The closest co-existence of these two powertrain systems is the hybrid powertrain. Hybrid vehicles use two different sources of power, most frequently petrol and electricity. There are several ways to arrange these power sources in the powertrain. Solutions range from both sources providing propulsion in parallel to one feeding energy into the other in a serial setup.
None of the hybrid systems proofed to be the most favourable one so far. Car manufacturers prefer certain setups to others while competitors have contrary preferences. One setup is becoming more and more popular: The so-called dedicated hybrid transmission (DHT). The DHT attaches the electric motor (or multiple) to a central point in the transmission while common hybrids tend to connect their electric machine either before or after the transmission. The DHT is flexible in its attachments and also concerning drive modes as well as e-motor and battery size. It can thus cover a wide range of applications. Is the DHT therefore the ideal future hybrid powertrain?
This paper investigates hofer powertrain's approach to hybrid transmission development from the empty sheet to the final hardware product. The focus lies on the first steps to find the concept most suitable for the respective application. Mechanical components are considered rather than other key components like e-motors, software or system integration. The concept development follows automated analytic approaches looking at all hybrid layouts imaginable and narrowing down the solution pool step by step. Each step dismisses hybrid layouts from the pool when violating key parameters. The key parameters originate from various engineering fields e.g. manufacturing, NVH or efficiency.
hofer powertrain's development process shows that most evaluation criteria are tied to the respective application. Every application has different key parameters that automatically lead to a different ideal solution. Hybrid transmissions, common ones as well as DHTs, only live to their full potential whenever tailored to their respective application. There is – so far – no hybrid transmission setup that proofs to be the best for all hybrid applications and thus no overall ideal future hybrid powertrain.