25-09-2017 | Original Research | Issue 2/2018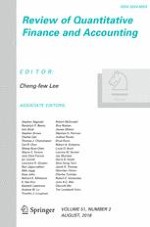 The impact of executive inside debt on sell-side financial analyst forecast characteristics
Authors:

Avishek Bhandari, Babak Mammadov, Maya Thevenot
Abstract
Debt-like compensation, referred to as inside debt, is prevalent in US firms and affects firm operating, investing and financial reporting activities. The amount of inside debt can be used to extract information that benefits analyst forecasting activities. This study finds that forecast accuracy increases, while forecast dispersion and revision volatility decrease with the magnitude of inside debt. Further analysis shows that inside debt is associated with increased propensity of firms to provide voluntary disclosures and the documented benefits on analyst characteristics accrue only to firms that offer close to optimal level of inside debt (Jensen and Meckling in J Financ Econ 3:305–360,
1976
; Edmans and Liu in Rev Finance 15:75–102,
2011
). Our research is the first to link debt-like compensation to financial analyst behavior and contributes to the understanding of the implications of inside debt to outside market participants.