2006 | OriginalPaper | Chapter
The Impact of Preference Structures in Multi-Issue Negotiations — an Empirical Analysis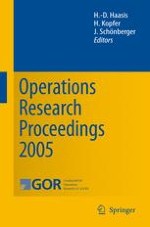 Read first chapter
Author: Rudolf Vetschera
Publisher: Springer Berlin Heidelberg
Most of the hypotheses we have tested seem to be rather straightforward: when negotiators consider an attribute to be more important, it is quite natural that they negotiate tougher regarding this attribute and obtain better outcomes than negotiators who do not really care about an attribute.
The important conclusion of this paper is that the multi-attribute utility functions elicited in Inspire really reflect these attitudes of negotiators. Even in cases where the utility functions contradict the case descriptions, e.g. when a buyer has a monotonically increasing utility function for price and thus assigns higher utility to a higher price, the actual behavior reflects the utility function, and not the more natural case description. Thus we can conclude that multi-attribute utility functions as used in Inspire can really capture the preferences of negotiators, even when they seem to be quite odd.
This is an important and positive message concerning the possibility to use analytical tools for negotiation support. When the preferences which really guide a negotiator's behavior can be captured with sufficient precision in a utility function, such a utility function can also be used to provide substantial and useful advise to a negotiator.