2019 | OriginalPaper | Chapter
The Influence of Cross-Border Cooperation (CBC) in the Fostering of Entrepreneurship and Regional Development: A Step Closer to Achieve Major Structural Changes and Sustainable Cities Within European Territory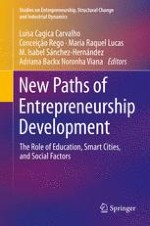 Read first chapter
Authors: Luís Loures, Rui Alexandre Castanho, José Manuel Naranjo Gómez, José Cabezas, Luis Fernández-Pozo
Publisher: Springer International Publishing
Abstract
Currently, we are living "strange/changing times", mainly, for populations from developed countries. Those challenges are caused by internal and external factors that are taking place inside and outside the borders of developed countries. Still, as new challenges arise, men have found new solutions to overcome existing difficulties. This might be the case of the entrepreneurship within EU borders, as a possible solution for increasing regional development of border areas.
Contributing for sustainable regional development and growth, cross-border cooperation (CBC) projects and strategies of cross-border cooperation has been as seen as critical for achieving desired territorial success, constituting fertile habitats for entrepreneurship and investment.
In this regard, it is important to analyse successful examples of European CBC projects in order to better understand not only how those issues are connected, but also how they influence and contribute for regional development.
The performed analyses enable us to understand the impacts of CBC for a sustainable growth identifying the ways territories should implement specific tools to develop structural alternatives and to open new paths towards the desired sustainable city, throughout the use of entrepreneurship as a catalyst for development.