2006 | OriginalPaper | Chapter
The Matusevich Fracture Zone in Oates Land, East Antarctica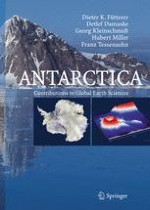 Read first chapter
Authors: Georg Kleinschmidt, Andreas L. Läufer
Publisher: Springer Berlin Heidelberg
The Matusevich Glacier trends 170° totally straight for more than 100 km. For this reason, a major fault was assumed along the glacier formerly. A westward directed ductile thrust system, trending 170°, was subsequently discovered in the upper Matusevich Glacier ("Exiles Thrust"). It formed under amphibolite facies conditions during the Ross Orogeny. Therefore, the course of the Matusevich Glacier was attributed to the Exiles Thrust instead of the postulated simple fault. During GANOVEX VIII/ITALANTARTIDE XV (1999/2000), the small-scale structures at the margins of the Matusevich Glacier were mapped. The most conspicuous and meaningful of these structures are cold, brittle, NW- to N-trending thrusts with slickensides, decorated with quartz fibres and uniformly SW-thrusting (−220°). They occur at the western side of the glacier (Lazarev Mts.). These structures are consistent with strike-slip tectonics along the Matusevich Glacier and could be interpreted as indicators of transpressional tectonics. Unfortunately, corresponding dextral strike-slip faults, which should strike about 170°, could not be observed directly. But 30 km to the west, 165° trending strike-slip structures are exposed at the eastern edge of Outrider Nunatak. Striations on steep fault planes indicate dextral displacement. This strike-slip tectonics produced a flower structure visible in one of the main granite-walls of Outrider Nunatak. Thus the neotectonics of westernmost Oates Land is characterized by brittle dextral strike-slip faulting, following the trend of much older Ross-age ductile thrust tectonics.
A comparable history as at this "Matusevich Fracture Zone" is known from the larger Rennick Glacier. Thus, two brittle dextral strike-slip fault zones are tracing older structures and cross at high angles the coastline of Antarctica. They are co-linear with off-shore fracture zones, the active parts of which are the transform faults between Antarctica and Australia. We discuss, whether the dextral faults on-shore could represent the continuations of the fracture zones off-shore. This idea is supported
(i)
by dextral offsets of the shelf where fracture zones reach Antarctica;
(ii)
possibly by magnetic anomalies along the Matusevich and Rennick Glaciers, which seem to continue off-shore;
(iii)
by several examples of oceanic fracture zones continuing into continental crust.