Published in: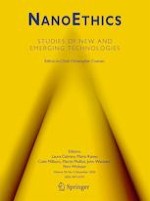 Open Access 17-10-2020 | Original Research Paper
The Memory-Modifying Potential of Optogenetics and the Need for Neuroethics
Published in: NanoEthics | Issue 3/2020
Abstract
Optogenetics is an invasive neuromodulation technology involving the use of light to control the activity of individual neurons. Even though optogenetics is a relatively new neuromodulation tool whose various implications have not yet been scrutinized, it has already been approved for its first clinical trials in humans. As optogenetics is being intensively investigated in animal models with the aim of developing novel brain stimulation treatments for various neurological and psychiatric disorders, it appears crucial to consider both the opportunities and dangers such therapies may offer. In this review, we focus on the memory-modifying potential of optogenetics, investigating what it is capable of and how it differs from other memory modification technologies (MMTs). We then outline the safety challenges that need to be addressed before optogenetics can be used in humans. Finally, we re-examine crucial neuroethical concerns expressed in regard to other MMTs in the light of optogenetics and address those that appear to be unique to the memory-modifying potential of optogenetic technology.
Publisher's Note
Springer Nature remains neutral with regard to jurisdictional claims in published maps and institutional affiliations.
What Is Optogenetics?
Combining genetic engineering with optics, optogenetics enables the user not only to record but also to manipulate the activity of individual neurons in living tissue with the use of light and to observe the effects of such manipulation in real time [
1
,
2
]. To this end, neurons of interest are genetically modified to be made responsive to light, which is done by means of inserting opsin genes (genes that express light-sensitive proteins). This is typically achieved with the aid of engineered viruses that are infused into a targeted region of the brain.
1
To enable the selective expression of light-activated proteins in a particular neural type, a cell-type specific promoter is added to the genetic construct within the vector. Once opsin genes arrive at their determined destination, they cause neurons to express light-sensitive proteins. When illuminated with light, the channels of these proteins regulate the flow of electrically charged ions across membranes, exacerbating or inhibiting the neuron's firing of action potentials, thus facilitating or preventing its communication with other neurons (depending on which light-activated protein is used). Thanks to this procedure, specific neurons can be activated or deactivated "at will," making optogenetics a highly selective and precise technique for manipulating neural activity.
The Need for Further Neuroethical Debate
Although optogenetics is a relatively new neuromodulation technology, whose various implications are, to a large extent, difficult to foresee at the current stage of research, its therapeutic potential has already prompted approval for the first human trials in the hope of developing novel treatments for intractable diseases, such as blindness. Initial approval was provided in 2015 by the US Food and Drug Administration (FDA) to RetroSense Therapeutics (Ann Arbor, MI, USA
2
) and in 2018 by the EU Clinical Trials Directive to GenSight Biologics (Paris, France
3
). Both approvals concerned authorization for a phase I/II clinical trial for restoration of vision in people suffering from retinitis pigmentosa [
4
]. Another disease awaiting the approval of initial clinical trials involving the application of optogenetic therapy and for which existing methods of treatment show limited effectiveness is urinary bladder syndrome [
5
]. Furthermore, many optogenetic studies conducted on animal models, such as rodents or non-human primates [
6
], were designed with the explicit goal of developing better targeted brain stimulation treatments for various psychiatric and neurological disorders in humans [
7
‐
14
]. These attempts, along with rapid advancements in the field, demonstrate that optogenetics is already progressing towards clinical application. Moreover, some (e.g., [
9
,
11
,
15
]) argue that it could also become an alternative form of therapy to deep brain stimulation (DBS), another form of invasive neuromodulation technology,
4
which, over the past decade, has become a widely accepted treatment method for patients struggling with different types of disorders. However, it is worth mentioning that both methods seem to be developing in parallel: while some scientists are putting their efforts into refining DBS to gain greater, optogenetic-like precision in targeting specific brain structures [
19
], others are trying to "refine" optogenetics to make it less invasive and to enhance its potential as a future treatment [
20
].
Although approval for the first clinical trials involving optogenetic interventions on human subjects has already stimulated preliminary discussions of most of the basic dilemmas, such as efficacy and safety concerns (which are actually common to all invasive neuromodulation technologies) [
21
‐
25
], a more focused debate on the ramifications of specific optogenetic brain interventions in humans is still lacking. As such interventions are becoming more and more plausible, given the pace of advancement in this field and the fact that the majority of optogenetic studies are designed exactly for this purpose, we argue that it is crucial to begin to address the ethical challenges that optogenetics may entail. In the context of neuroethics, studies on memory modification with the use of optogenetics constitute a particularly relevant research area. This review aims to demonstrate how recent breakthroughs in memory-modifying research conducted on animal models can inform us about the potential threats and opportunities optogenetics offers. In particular, we will examine what optogenetics is capable of, how it differs from other existing memory-modifying technologies (e.g., DBS, various memory-modifying drugs), and what safety concerns need to be addressed before optogenetics can be used on humans. Finally, we will re-examine crucial neuroethical concerns expressed regarding other MMTs in the light of optogenetics as well as neuroethical challenges unique to the memory-modifying potential of optogenetics.
Optogenetics: New Possibilities
Optogenetics enables far more precise and selective neural control than any other existing neuromodulation technique. For instance, DBS involves time-specific electrical stimulation of the brain via implanted electrodes. However, electrical currents spread non-selectively, such that fibers in the vicinity of electrodes are activated along with the targeted cells, making it difficult to estimate the actual volume of stimulated tissue [
26
]. In contrast, pharmacological agents act more selectively, as they bind to specific receptors. However, as they alter neuronal responding for hours following administration of the drug, they lack temporal precision [
27
].
Contrastingly, optogenetics can selectively and bidirectionally modulate (i.e., enhance or inhibit) specific cellular activity on timescales relevant to the temporal dynamic of neural networks [
2
]. Moreover, since optogenetics uses light pulses instead of electrical currents, it is compatible with neural and electrochemical recording [
28
], thus enabling the adoption of real-time stimulation parameters based on recorded activity of the brain. These features of optogenetics makes it unsurpassed, in terms of both spatial and temporal accuracy, with respect to already existing MMTs. We will now present some of the optogenetic findings derived from studies on animal models that foreshadow what lies ahead.
Memory Modification with the Use of Optogenetics
Potential Applications of Optogenetics in Humans
Safety Issues and Technical Challenges
Call for a Debate on the Neuroethical Consequences of the Memory-Modifying Potential of Optogenetics
The properties of optogenetics discussed above make it a powerful yet highly ambivalent (in ethical terms) neuromodulation technique. Moreover, as optogenetics is one of the fastest-developing neuromodulation technologies, with more and more laboratories becoming equipped with optogenetic tools worldwide, and as it differs from previous MMTs, there is an urgent need to initiate a debate on its more elusive ethical consequences before it can be allowed as an accepted form of treatment for humans.
This review is a first step in this process, as we considered new emerging possibilities associated with optogenetics in the field of memory modification, and contrasted it with other MMTs to shed light on differences distinguishing these techniques. Moreover, we analyzed the most general challenges that optogenetics will have to face before it can be applied as a form of treatment or cognitive enhancement in humans. Some of the most basic ethical issues (such as efficacy and safety concerns) associated with the application of optogenetics to humans have already begun to be addressed [
21
‐
25
]. However, as optogenetics is being intensively investigated in the context of the development of effective brain stimulation treatments for various neurological and psychiatric disorders such as depression [
8
], schizophrenia [
10
,
13
], anxiety and pain [
11
], movement disorders [
14
], including Parkinson's disease [
9
,
65
], addictions [
90
], epilepsy [
91
], and memory-related disorders such as PTSD [
12
], diencephalic amnesia, and Alzheimer's disease [
7
], it is conceivable that optogenetics or other optogenetic-like neurostimulation methods (that allow for a similar degree of neural specificity and precision, will eventually be used to apply these findings as a form of therapy in humans. And, indeed, some optogenetics findings regarding characterization of neural circuits and their dysfunction in various brain diseases are currently inspiring novel stimulation protocols that are planned to be applied as a form of treatment in humans by means of refined DBS [
92
].
Although some dissenting voices have indicated that it is too early yet to consider neuroethical issues which revolve around approaching neuromodulation technologies (see, for instance, [
93
]), we (as well as some others; see, e.g., [
25
,
94
]) hold opposing views: we believe that the role of neuroethics is actually to think ahead and act proactively rather than reactively, so that a sufficient amount of relevant literature will be available to fall back on when various technologies are about to be applied in humans; in this way, ethics committees will not be forced to make ill-informed ad-hoc decisions when facing the dilemma of whether to issue approval for a specific investigation or treatment involving invasive neurostimulation technologies. Therefore, in the final two sections, we would like to outline some of these more intangible neuroethical challenges. We will consider, in the first section, ethical problems associated with forms of memory modification shared by optogenetics with other MMTs (but which may still generate novel ethical problems), as well as, in the final section, those that may be specific to optogenetics due to its unique memory-modifying possibilities.
Memory-Modifying Potential and Related Neuroethical Challenges of Optogenetics Shared with Other MMTs
Optogenetics offers some forms of memory modification that have been achieved with the use of other MMTs (albeit, as we mentioned earlier, with varying success and to a limited extent). These include modification of certain details of a specific memory/implantation of false memories [
29
,
30
] and alteration/diminution of the memory valence [
41
]. In the following section, we discuss what neuroethical consequences these memory-modifying possibilities can have by revisiting neuroethical challenges that were previously raised towards other MMTs in the light of the memory-modifying potential of optogenetics. In "
The Issue of Exploitation
," "
The Issue of Appropriate Moral Reaction
," and "
The Issue of Altering Evaluative Schemes and Dispositions
," we also present a new context in which memory-modifying potential of MMTs (including optogenetics) can be used and new neuroethical challenges that emerge from these scenarios. More specifically, we argue that
modification of valence of soldiers' war memories
can lead to several issues:
exploitation
of soldiers' memories which can be in the interest of authoritarian governments (see "
The Issue of Exploitation
"),
inappropriate moral reactions
which may alienate a soldier from society as his/her reactions appear inhuman to third-parties (see, 8.3), and
changing evaluative scheme and dispositions
which may make soldiers an existential threat to others (see "
The Issue of Altering Evaluative Schemes and Dispositions
"). Moreover, when discussing these issues in "
The Issue of Appropriate Moral Reaction
" and "
The Issue of Altering Evaluative Schemes and Dispositions
" as well as the issue of
adaptiveness
in "
The Issue of Adaptiveness
," we indicate when and why novel memory-modifying potential of optogenetics can yield more serious neuroethical consequences compared with the previous MMTs.
The Issue of "Natural" Recovery from Traumatic Experiences
One basic ethical concern associated with medical interventions is the question of who should receive the treatment. As long as prognostic indicators of the development of psychological disorders such as PTSD in the immediate aftermath of trauma are not fully developed, MMTs that rely on intervention within the consolidation window take the risk that the patient will be deprived of the opportunity to attempt recovery from trauma on his or her own through an appeal to rational capacities, for example via the construction of a redemptive story to promote posttraumatic growth [
95
].
11
On the other hand, as some MMTs (e.g., propranolol, optogenetics) have the potential to modify even well-consolidated memories, this opportunity may reduce the above ethical concern through the introduction of legal regulations mandating that only memories contributing to the development of a particular trauma are to be treated (see also [
53
]).
The Issue of Exploitation
One fundamental and inherent issue common to all of the interventions discussed above is that memories constituting the most plausible candidates for such modifications often involve some form of moral transgression, as experiences of this kind are especially disturbing and traumatic for humans. However, alteration of the valence of memories involving moral transgression (i.e., switching them from negative to positive) may be ambivalent even in cases where memories have proved to be maladaptive and have resulted in the development of a psychological disorder. Consider the potential usage of MMT to alter the valence of memories of war veterans who have developed PTSD. A government which pursues an imperialist policy may actually possess a vital interest in the modification of the valence of soldiers' war memories not only in order to treat these soldiers but also to use their testimony to propagate more positive images of war in order to gain broader support for military campaigns as well as to gain new recruits attracted by military stories.
The Issue of Appropriate Moral Reaction
The discussed case, however, entails not only the potential malpractices of authoritarian governments but also the issue of
appropriate moral reaction
. As moral agents, we can respond to events in more or less appropriate ways [
97
,
98
]. In the case discussed above, soldiers may have either harmed others or been harmed themselves. Some argue that it is appropriate to feel resentment and indignation in the case of experiencing harm and guilt and regret after harming others [
97
,
99
,
100
]. Arguably, if soldiers experienced harm and developed PTSD as the result of an event, the issue of appropriate moral reaction would be less problematic, provided the government did not use the soldiers as a propaganda tool.
However, cases in which soldiers harm others are particularly morally problematic. It may be argued that it would be at least morally ambivalent to modify memories of soldiers who had committed horrific acts, even if those memories resulted in PTSD. Consider the consequences of altering the valence of the dreadful memories of a soldier who had committed genocide, who would thus arguably be free from PTSD along with the guilty conscience that would normally have resulted from his deeds. Some would argue that murderers
should
express appropriate moral reactions to deeds they have every reason to feel guilty about.
12
Even more morally alarming in this case is that the valence of the soldier's memory of genocide would be changed from negative to positive—the opportunity provided by the novel potential of optogenetics. Thus, he might actually develop a disposition to take pleasure in recalling his inhuman acts. This situation seems entirely different, from a moral standpoint, from one in which the valence of a traumatic memory is merely blunted (as is already offered by MM drugs, such as propranolol). It might be argued that every human being—independently of his or her past—deserves to be free from psychological disorders or even from a guilty conscience; however, it is much more controversial to argue that humans have the right to alter the valence of memories of their own horrific acts so as to actively enjoy them.
The Issue of Altering Evaluative Schemes and Dispositions
Moreover, assuming that alteration of the valence of a particular memory could become generalized to other instances of this type of memory (e.g., from a memory of killing a particular person to memories of killing other people), it might introduce changes in an individual's overall evaluative system of such acts as well as in his desires. For instance, a soldier, having changed the valence of his war memories, could develop "a taste for killing." Thus, meddling with the valence of traumatic memories of war veterans could make them "sociopathic," as they might become disposed to obtain satisfaction from harming others—the possibility that seems to be especially acute in case of optogenetic interventions involving the change of valence from negative to positive.
The Issue of Authenticity
The possibility that blunting memories may change the evaluative system of a person is linked to the issue of
authenticity
. In many conceptions of authenticity, deriving from various lineages—essentialist (self-discovery) (e.g., [
102
]), existentialist (self-creation) (e.g., [
103
] [1943]), and dual-basis framework (e.g., [
104
])—being "truthful" to oneself is directly associated with living in alignment with one's values. Thus, a person whose values have been changed as a result of alteration of the valence of her memories would commit either an act of "betrayal" of her true self, according to the essentialists, since, as a result of her evaluative change, she might begin to lead a life inconsistent with her given and fixed essence (for further considerations, see [
105
]), or an act of self-deception, according to the "Sartrean" existentialists, as the process of self-creation would stem not from the values that she had freely chosen, but from those constituting side effects of the memory-modifying intervention (for additional considerations see, [
99
,
106
]). Either way, such an intervention may pose a threat to the patient's authenticity.
The Issue of Adaptiveness
Another problem with the kinds of memory-modifications common to various MMTs is that some memories, despite being unequivocally negative or disturbing, may be highly adaptive; accordingly, changing the valence of certain highly aversive and unpleasant memories may be undesirable or even dangerous in cases where the memory is indicative of a genuine threat. Let us recall the above-mentioned consequences of propranolol-based interventions in cases of arachnophobia, in which participants developed generalized and excessively positive responses to spiders—a disposition which could prove deadly in an encounter with a venomous spider in the wild [
53
]. As optogenetics potentially offers not only to blunt the emotionality of specific memories and associated emotional reactions—as in the case of propranolol—but also to
switch the valence
of specific memory, the issue of adaptiveness could become even more problematic when memory-modifying interventions are applied with the use of optogenetics.
Elsey and Kindt [
53
] also point out that interventions that resulted in "the development of an overly potent appetitive memory could be highly disruptive. This is evident in addiction, in which the rewarding properties of drug consumption gave so much control over behavior that the drug is pursued even to the detriment of the person's health, relationships, and personal commitments." Therefore, going "beyond the norm" regarding the emotional valence of a given memory may prove unfavorable, whether the change of valence is from positive to negative or vice versa.
Unique Memory-Modifying Potential of Optogenetics and Related Neuroethical Challenges
On the other hand, optogenetics offers unique possibilities that have never been achieved with the use of any other MMT. In "
The Issue of Losing Motivation to Work for Systemic Change
," "
The Issue of Negative Composition Effects
," and "
The Issue of Autonomy and the Principle of Conformity Regarding Memory Erasure
," we revisit some of the neuroethical challenges that have been raised towards
hypothetical
memory-modifying interventions before the advent of an MMT that could actually enable them. As now optogenetics can be regarded as such anticipated MMT, we revise these arguments in the light of optogenetics findings, grounding prior speculations in the empirical reality. Moreover, optogenetics provides even greater memory-modifying opportunities than have previously been assumed including selective and reversible erasure (repeated deactivation and reactivation) of a specific memory and the retrieval of forgotten (or suppressed) memories. These new possibilities for memory modification may be associated with novel neuroethical challenges that have not previously been addressed. Thus, in the final sections "
The Issue of Moral Obligations
" and "
The Issue of Personal Identity
," we discuss some new neuroethical challenges that could arise due to unique memory-modifying prospects of optogenetics and propose a new solution to one of the previously speculative concerns.
The Issue of Losing Motivation to Work for Systemic Change
The nature of the human mind is such that often the most plausible target of optogenetic erasure comprises traumatic yet self-defining memories, since traumas often play a critical role in forming personal identity [
95
,
107
]. Furthermore, traumatic memories may also play a role in shaping the personality; for instance, those who experienced childhood trauma were shown to exhibit greater empathy than those who did not [
108
]. Finally, as demonstrated by the #MeToo movement or, recently, by the #BlackLivesMatter movement, some intersubjectively shared types of traumatic experiences and memories (such as of sexual abuse or racial discrimination) may, for instance, motivate people to organize in order to combat systemic forms of maltreatment that they and those close to them have experienced. Thus, removing traumatic memories may render systemic change in society impossible: people freed from traumatic experiences might lose the motivational component of their traumatic memories and cease to fight against the injustices they have experienced.
The Issue of Negative Composition Effects
It can be argued, nonetheless, that people should not be forced to retain their traumatic memories, as a human being should be treated not as a means for other ends (here, the welfare of society), but rather as an end in itself. However, as Lavazza [
109
] points out, the combination of several individual choices can entail
negative composition effects
. In a nutshell, although each individual does what appears, prima facie, to be the best for herself—e.g., erase memories of maltreatment—and enjoy temporarily subjective relief from painful experience, in the absence of centralized coordination of these actions, individual choices may backfire on both the individual making them as well as, in the future, other members of society, as the objective conditions that led to the traumas in the first place remain unchanged; thus, the aggregate consequences of the choice to erase traumatic memories made by a sufficient number of individuals would actually help to preserve oppressive social relations and serve the interests of oppressors.
Negative composition effects need not appear at the level of society; they may also be revealed at the more "local" level of the life of an individual. A hypothetical case posed by Glannon [
110
] is a good exemplification of this: a young academic experiences a traumatic failure during a public event; devastated, she decides to erase the memory of this event. However, similar failures happen again and again. On every occasion, she uses optogenetics to erase the disturbing memory. Thus, as the opportunity to erase memories is always available to the young scholar, she avoids dealing with the structural weakness responsible for her failures. Consequently, she falls into a cycle of repeating mistakes and erasing her memories of them. Thus, although subjectively well, she will eventually be overwhelmed by external reality, ending up worse off than she would have been without optogenetic interventions.
13
The Issue of Autonomy and the Principle of Conformity Regarding Memory Erasure
Not allowing for dampening traumatic memories on the above discussed grounds—due to concerns about negative composition effects—may breach not only the Kantian imperative, but also the liberal principle of individual autonomy understood as "self-rule" or "self-government" [
113
]. According to the latter principle, the very idea of self-rule relies on the right to control one's own mind; thus memories—being a fundamental part of it—would certainly seem to be included (see [
114
]). However, given the nature of life in society, it is apparently beneficial for all parties to impose certain limitations on the potential choices and actions of its members; here, for example, Mill's principle of liberty might be recalled.
14
Moreover, in an apparent paradox, imposing restrictions on personal autonomy can be beneficial in terms of exercising autonomy: a Hobbesian society functioning according to the
homo homini lupus
rule would possibly exercise autonomy at the beginning (at least of some of the most powerful members of society), but over time "continuous conflict would repeatedly put at risk our ability to self-determination, since violent interferences with our choices would be the norm. It therefore seems that the "rule" of autonomy should be implemented so that, even if everyone took it to the highest degree, it would still be possible for everyone to exercise it" [
109
].
We are not arguing that an individual's interest in avoiding pain from traumatic memories and potential development of PTSD should be always subordinate to society's interest in changing oppressive structures. Potential middle-ground pragmatic solutions exist. Lavazza [
109
] proposed, for instance: "to allow the treatment to those who show the greatest signs of suffering." At the same time, we may want to ask the most motivated individuals to be "volunteers" and to preserve their memories intact in order to continue the fight against experienced injustices. Moreover, it is worth noting that, as long as choices to erase memories arise only occasionally, the principle of autonomy appears to outweigh the principle of
conformity regarding memory erasure
mentioned above.
In our view, however, there will always be a tension between the interests of the individual and society, as it is unlikely that governments (or other decision-makers) will ever be able to reliably predict the aggregate consequences emerging from the decisions of individuals. Thus, assessment of the admissibility of optogenetic memory modifications is no simple matter, as it requires careful consideration of the aggregate societal consequences of these interventions.
The Issue of Moral Obligations
Kolber [
114
] considers a situation in which a bystander is the only person to see the face of a serial rapist fleeing the home of his latest victim. Arguably, most would agree that even though this bystander might find this memory upsetting and might want to erase it, she should be legally obliged to retain it in the interests of preventing the serial rapist from committing future crimes. This case raises the issue of
moral obligations
regarding memory modifications. However, should we reach the same conclusion when the only person to see the serial rapist's face is the victim of the rape? When Kolber posed this question in 2006, the only way to diminish a given memory was through interference with the process of its formation. Therefore, the decision whether to dampen a memory had to be made quickly, within several hours after the event in question, which would preclude the victim's testimony in a subsequent court trial. Postponing memory erasure, on the other hand, would render the procedure ineffective. In an attempt to answer the above question, we may again consider negative composition effects: if every victim erased her traumatic memory, social safety would deteriorate greatly, since no victims would testify and criminals would remain free to commit additional crimes [
109
]. However, given the novel capacity of optogenetics to target and selectively erase well-consolidated memories, we may possess tools in the future to erase traumatic memories
after
their deposition within the context of a criminal prosecution; thus, this protocol could provide a solution to the discussed problem. Moreover, speculatively, in a case where such memories were desperately needed during other stages of the prosecution (as arguably might sometimes be the case), optogenetics could potentially reintroduce them into the victim's memory system in order to gain additional necessary evidence. Our considerations here demonstrate that confronting existing arguments with empirical data is crucial as answers to neuroethical problems can differ given distinct capabilities of various technologies.
The moral obligation to remember can be discussed either when one experienced harm (one is the victim), or when one harms others (one is the offender). Liao and Sandberg [
97
] argue that in a case in which one is the offender, one has "a duty not to remove these kinds of memories until one has come to realize one's errors." Thus, Liao and Sandberg argue for "the duty to remember" on the grounds of the value of the appropriateness of moral reactions. On the other hand, they also emphasize that the moral obligation to remember is particularly relevant if deliberately forgetting might increase the likelihood of future crimes of this type. However, this solution might be questioned, as Liao and Sandberg acknowledge, citing Levy [
116
], who argues that "deliberate forgetting could decrease the likelihood of future crimes of this type, because remembering may make it easier to commit the crime in the future, since one has already done it before" [
97
].
Thus—from the perspective of the interests of society and for consequentialist reasons—which of these strategies would be more beneficial in terms of crime prevention is an empirical question. Obviously, however, one can argue in favor of the duty not to erase offenders' memories of moral transgressions on the grounds of other moral values, such as autonomy. Let us recall the protagonist Alex in Stanley Kubrick's
A Clockwork Orange
(1971), who was "rehabilitated" by means of the aversion therapy to the extent that, as Cabrera and Elger [
117
] point out, he ceased to be capable of any moral action.
The Issue of Personal Identity
Although it appears that the reversible erasure of a specific memory offers an ideal form of memory manipulation (as we can always bring the erased memory back), there is the risk that the restoration of an erased memory may not be accomplished without consequences. Studies show that some memories may exert enormous impacts on who we are and what we pursue in our lives. These are so-called self-defining memories [
118
]. Singer et al. [
119
] argue that such memories serve as the ingredients for an individual's overall
life story
, and thus constitute that individual's
narrative identity
. Schechtman [
120
] famously argues that the narrative is the answer to the "characterization question"—the question of "what makes a person who she is." Schechtman also imposes normative constraints upon a narrative considered constitutive of the self. According to the articulation constraint, the narrative must be coherent and intelligible. According to the reality constraint, it must correspond to basic facts about the person's life ([
120
], 83; 113–114). Thus, in the light of Schechtman's theory of narrative identity and the above insights concerning self-defining memories, the concern regarding optogenetic erasure of a self-defining memory is that a given individual's narrative—the very requirement of being oneself—might be disrupted.
15
If this were the case, however, it could be argued that, given the capacity of optogenetics to reintroduce memories into the memory system, these potentially undesirable effects of memory erasure/deactivation could easily be reversed through reactivation of the memory trace. However, reactivation of self-defining memories may fail, as the individual's narrative identity may have already changed. Therefore, the individual might feel alienated from the newly reactivated memory as a result of feeling that she is no longer the same person.
16
Consequently, the re-integration of (previously) self-defining memories with a subject's newly developed narrative identity might prove impossible.
Conclusions
Taking the above considerations into account, it appears that optogenetics is not free of the ethical challenges posed by existing MMTs. However, depending on which of the presented methods of memory modification is utilized in practice, these challenges may take different forms.
For instance, as we discussed above, optogenetic interventions promise not only to blunt emotional (traumatic) memories but also to change their valences from negative to positive and vice versa. In cases of such interventions, the issue of
exploitation
seems to be of particular importance, as political regimes could use optogenetics for their own purposes. On one hand, this concern appears graver in the case of changing a memory's valence, as opposed to erasure of a specific memory, as authoritarian governments may wish to use war veterans as propaganda tools by imposing positive valences on extremely negative, traumatic war memories. On the other hand, the issue of
exploitation
may prove even more disturbing in cases where optogenetics is used to erase memories of, e.g., brutal interrogations of prisoners of war.
The issue of
appropriate moral reaction
has also been inherited from other MMTs in the case of optogenetic interventions involving the reversible erasure of memories. Here, however, the issue might also take on a somewhat different and possibly even more problematic shape. If a person were to be deprived of the declarative knowledge of a given memory, the expression of an appropriate moral reaction would arguably be impossible. Such a lack of an appropriate moral and emotional reaction might seem heartless and inhuman from the perspective of the surrounding community. Alternatively, a person whose memory valence had been changed would still possess this memory, and could thus plausibly fake an appropriate moral reaction (as psychopaths do); this also raises serious ethical concerns.
The issue of
authenticity
is also relevant in the case of the memory-modifying potential of optogenetics. Changes in the valences, as well as the complete removal, of memories may cause changes in a person's evaluative schema, especially since such interventions would likely be especially frequent in cases of highly emotional—such as self-defining (traumatic)—memories; thus, being "truthful" to oneself, understood as living according to one's values, may prove problematic in such scenarios. In this context, it is worth considering the moral dilemma faced by the soldier-murderer discussed above if his memories were to be erased by means of optogenetics. Such an individual might not only lack the appropriate moral reactions (as in the case of modifying the valence of a memory), but might even be unaware that he had been a killer.
What should be clear, given the above considerations, is that the potential of optogenetics to modify memories generates many more questions than answers. However, as many optogenetic interventions are designed for therapeutic purposes and as the first human clinical trials using optogenetics are already underway, we argue that the neuroethical community must start to consider the ethical challenges associated with the vast capabilities of optogenetics. In this review article, we focused on the memory-modifying potential of optogenetics. However, optogenetics is not restricted to this area, and notable achievements have also been made in other fields of optogenetic research. Thus, we encourage neuroethicists to begin to address potential ethical concerns that may arise in these other neuromodulatory contexts. Although it will probably take some years before scientists find solutions to the current technical and safety problems of optogenetics, and while some time is likely to pass before optogenetics, or optogenetic-like technology (for now, the refined DBS system appears to be the most likely candidate; see [
19
,
92
]), is approved as a form of treatment for a broader spectrum of brain disorders, it is the role of neuroethicists to anticipate the more universal ethical challenges that optogenetics will eventually have to face.
Open Access
This article is licensed under a Creative Commons Attribution 4.0 International License, which permits use, sharing, adaptation, distribution and reproduction in any medium or format, as long as you give appropriate credit to the original author(s) and the source, provide a link to the Creative Commons licence, and indicate if changes were made. The images or other third party material in this article are included in the article's Creative Commons licence, unless indicated otherwise in a credit line to the material. If material is not included in the article's Creative Commons licence and your intended use is not permitted by statutory regulation or exceeds the permitted use, you will need to obtain permission directly from the copyright holder. To view a copy of this licence, visit
http://​creativecommons.​org/​licenses/​by/​4.​0/​
.
Publisher's Note
Springer Nature remains neutral with regard to jurisdictional claims in published maps and institutional affiliations.