Published in: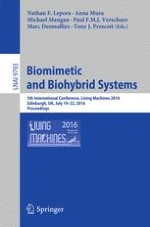 2016 | OriginalPaper | Chapter
The Natural Bipeds, Birds and Humans: An Inspiration for Bipedal Robots
Abstract
Despite many studies, the locomotion of bipedal legged robots is still not perfect. All the current robots are based on a humanoid model, which is not the unique one in Nature. In this paper we compare the natural bipedies in order to explore new tracks to improve robotic bipedal locomotion. This study starts with a short review of the historical bases of the biological bipedies to explain the differences between the structures of the human and bird bodies. The observations on the kinematics of bird walking describe a modular system that can be reproduced in robotics to take advantage of the bird leg versatility. For comparison purposes, a bird model is scaled up to have the same mass and the same height of the center of mass as a humanoid model. Simulation results show that the bird model can execute larger strides and stay on course, compared with the humanoid model. In addition the results confirm the functional decomposition of the bird system into the trunk and the thighs for the one part, and the distal part of the leg for the other part.