Published in: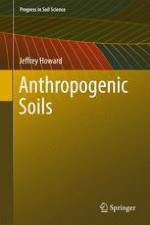 2017 | OriginalPaper | Chapter
1. The Nature and Significance of Anthropogenic Soils
Abstract
Anthropogenic soils (anthrosoils) are soils that have been influenced, modified or created by human activity, in contrast to soils formed by natural processes. They are found worldwide in urban and other human-impacted landscapes. Anthrosoils are formed by: (1) sealing a natural soil beneath pavement or other artificially manufactured impervious material, (2) transformation of a natural soil by human action, or (3) development of a new soil profile in parent materials created and deposited by human action.